Purchase of expanded polystyrene (EPS) waste
The main scope of action at Traxpo is the purchase of expanded polystyrene (EPS) for its recycling. This makes us the leading company in the EPS recycling sector in Europe and worldwide. So, if your company generates EPS waste in its production processes and wants to recycle it, please contact us!
At Traxpo we are deeply concerned about the environment and business policies that commit to recycling materials. We work with companies in different sectors that generate a high quantity of polystyrene waste.
What is expanded polystyrene (EPS)?
EPS, expanded polystyrene, is also known as porexpan or white cork and is a petroleum derivative, produced as a rigid and closed cell plastic foam. Comprised primarily of beads, it is formed into a specific shape through the manufacturing process to which it is subjected.
Furthermore, the material is extremely hygienic as it is free from any formation of microorganisms due to the fact that it has no nutrients on which they could feed, meaning there is no rotting or mould.
Sell us your polystyrene waste and we recycle it.
We offer a complete service for the management and recovery of polystyrene waste, generated by commercial and industrial activities.
OUR PROCESS
1
We buy

We work together with partner companies and institutions, and we buy their expanded polystyrene waste on a daily basis, and we proceed to recycle it correctly.
2
We recycle

Through complex systems, and with more than 10 years of improvement, we manage to transform the styrofoam to give it a second life.
3
We reuse

We convert used Expanded Polystyrene into GPPS (General Purpose Polystyrene), and we sell it to other companies who use it in the creation of new products with a lower environmental impact.
From which companies do we purchase EPS?
Owing to the characteristics of expanded polystyrene, at Traxpo we believe this material is absolutely essential to recycle, given that handling and management of this extremely lightweight plastic has high disposal and landfill costs. Our main line of business is centred on recycling EPS.
Do you have any more questions about EPS and its uses? Are you a company that would like us to manage this material for you? At Traxpo, we will be happy to answer any and all of your questions. Please give us a ring at +34 977 033 590 or send us a message via our contact form.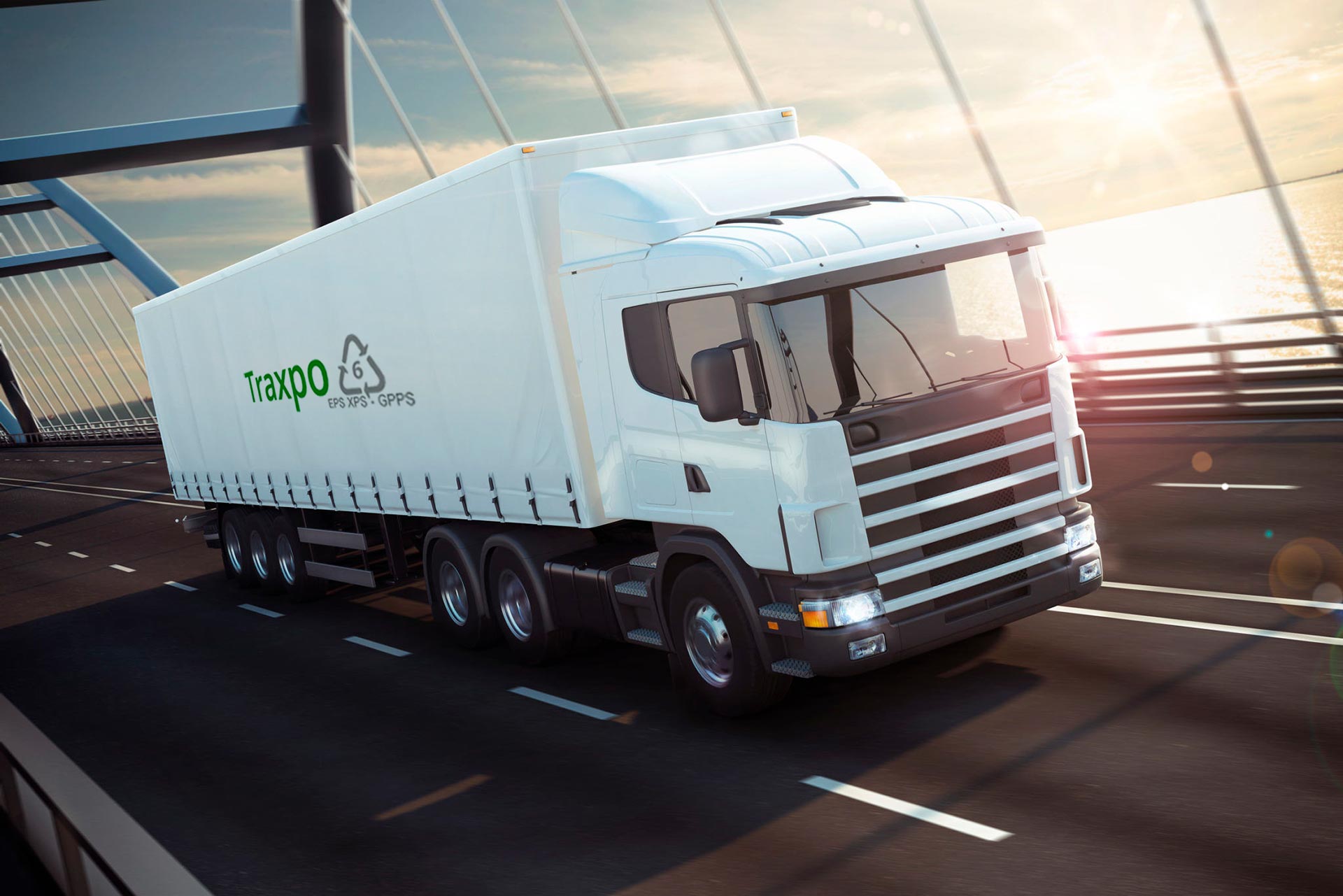 At Traxpo, our scales have been certified by the Spanish Ministry of Industry.
---
---
Traxpo is a sure-fire guarantee and reliable
We have over 10 years of experience and our specialization is the recycling of expanded polystyrene. We work with companies throughout the world that now actually receive money for their waste instead of paying high management costs. Our experts are called by both public and private institutions to give advice on how to properly handle and manage this waste. Our young and committed team will assist you and answer any questions you may have.

Joint work
We work jointly with companies and institutions that need to manage their expanded polystyrene (EPS) waste correctly.
We encourage and reward recycling
We pay the generator of the waste to encourage and reward larger scale recycling in the future. Thus, our policy helps us to convince more companies to recycle.
A second life
We process the material and give it a second life. This leads to us recovering thousands of tonnes of EPS every year that would have gone to landfills.
Contact us
We are a team of experts in waste management and international trade at your service. Do not hesitate to contact us
On the phone:

Monday to Friday from 8:30 – 17.00

 

By e-mail: